Over the last 24 hours many have speculated on how GM will emerge from Chapter 11 bankruptcy. I could speculate, give my opinion, hypothesize, and such…but in today's economic climate it is difficult to project. The first step is to understand where GM thinks it is headed. Below are excerpts from GM's most recent press releases.
The New GM, under agreement with the U.S. Treasury, will consist of GM's strongest operations and brands from around the world, resulting in substantially less debt and lower operating costs than GM historically has carried.
See full press release – GM Pulls Ahead U.S. Plant Closures; Reaffirms Intent to Build Future Small Car in U.S.
Pending approvals, the New GM is expected to launch in about 60 to 90 days as a separate and independent company from the current GM ("GM"), with two distinct advantages: it will be built from only GM's best brands and operations, and it will be supported by a stronger balance sheet due to a significantly lower debt burden and operating cost structure than before.
See the full press release that outlines GM's plan HERE.
General Motors Corporation today reported that it has received U.S. Bankruptcy Court approval to continue honoring all vehicle warranty programs and dealer incentive plans.
See the full press release HERE.
General Motors announced it has entered into a memorandum of understanding with a buyer for HUMMER, its premium off-road brand. Read about the selling of Hummer HERE.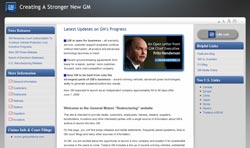 Ok, that's enough from GM in a couple of days. Let's see if they can implement the "New GM" plan and emerge as a stronger company. To follow the "New GM", go to GM.com/Restructuring
To see the list of GM's anticipated plant closure locations, click HERE.
What do you think? Will GM be a better company? Will they turn a profit?