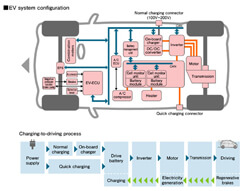 Today Mitsubishi Motors announced that it will begin to mass produce the i-MiEV (Mitsubishi innovative Electric Vehicle). After distributing the vehicle first to corporations and government fleets, it will begin to sell the i-MiEV to individuals in Japan in April 2010 (with orders being taking this summer).
The i-MiEV is a rear-wheel drive zero-emissions vehicle (ZEV), is 100% electric driven, has a range of 160 km (99.42 miles), has a 47 kilowatt (63 horsepower) electric motor, and has a lithium-ion battery that can be charged at home or at a quick charge station. The i-MiEV has a Manufacturer Suggested Retail Price (MSRP) of 4,599,000 Japanese Yen (which is about $47,000).
To learn more about the i-MiEV, click HERE.