Consumer Reports, the nation's leading independent consumer advocacy group, recently published on their website "Reality Check on Car Care Myths". This article is a must read for car owners. It covers everything from oil change intervals to car washing to tire inflation. The greatest debate in the car care industry is oil change intervals. The question is, do you change the oil at 3,000 miles or longer? Start by reading what your service intervals are in your owner's manual. It is true that manufacturers commonly recommend 7,500 miles or more for normal service and 3,000 or 5,000 miles for "severe" service. The key is to determine and be honest about your driving habits. If you are in a lot of stop and go, dusty conditions, take short trips, tow or haul loads…then you may be driving in "severe" driving conditions. Juffy Lube has an online quiz to help you determine if you are driving in "normal" or "severe" conditions. (I know, they are in the oil change business…it's just one resource…keep reading.) Today new onboard technology allows your car to tell you when your oil needs changing. GM's Oil Life System "uses an algorithm that tracks engine revolutions and temperature and predicts oil life based on these parameters and driver use." According to GM, this sometimes means going 12,000 miles or more between changes. Check out this Q & A with a GM engineer.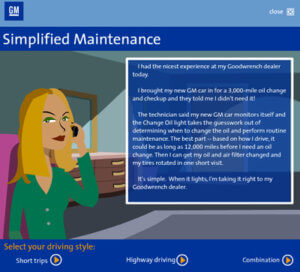 Even the State of California is in the discussion. Visit their website www.3000milemyth.org for more information.
Honda's use a Maintenance Minder System. One Honda manual states if the "SERVICE does not appear more than 12 months after the display is reset, change the engine oil every year." It also states that the "maintenance minder assumes you will use your vehicle as normal transportation for passengers and their possessions." According to Honda, "The Maintenance Minder system tracks services on a mileage basis such as the miles between changes to the air filter, spark plugs, coolant and tire rotation. In addition, engine sensors detect driving conditions to recommend when an oil change is recommended and send that information to the Maintenance Minder."
For more reading and research, check out the Boston's Globe article on increasing oil change intervals.
So what do I do? I generally change the oil between 3,000 to 5,000 miles due to my driving conditions…and I save money by doing it myself…but that's just my preference. Instead of paying a quick lube place $25 to $30, I do it for about $15. If you do change your car's engine oil yourself, be sure to recycle it properly. To locate an oil recycling center near you, go to Earth911.org. To learn more about the oil recycling process and benefits, check out the American Petroleum Institute's website RecycleOil.org.