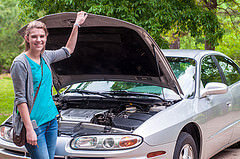 Image Credit Carissa Rogers
The decision on whether or not to purchase a second-hand vehicle can be tough. There are so many different elements to think about that it can be hard to know where to start. We'll do our best to offer you some great advice today in the hope of making your life easier. Making your purchase before Christmas could be a wise move as prices are a little lower. That is because most people are using their finances to pay for presents for their loved ones, and so dealer do less business at this time of year. Also, getting everything sorted before the holidays should mean you have less to worry about when January comes around. Most people struggle with money during that month due to the amount of time they had off work at the end of December.
As you can see, now is the best time to make your investment. However, you're going to need some tips and suggestions from people who understand the industry well. Luckily, that is exactly what you're going to get this afternoon. Of course, there are a number of other alternatives. Some people prefer to opt for a brand new model from a registered dealership. Others prefer the idea of leasing a car. While we may publish articles offering advice on that in the future, this one will concentrate solely on the second-hand market.
Ask to see the paperwork
Regardless of what time of year it might be, you should always ask to see relevant paperwork before agreeing to purchase any automobile. If the seller cannot provide you with the information you require, that could be a sign that all is not well. Some will simply have lost the service history, but you should steer clear of anyone that can't produce essential documents. At the very least, there should be the owner's logbook and receipts for any work carried out since the car rolled off the production line. Don't be too worried about walking away if this information is not available. No matter which model you find most desirable, there will be hundreds more for sale around the country from reputable suppliers like Sandles.
Check the engine
You should always take a look at the engine before signing on the dotted line. Presuming you have some basic mechanical knowledge, you shouldn't have too much trouble spotting when something is wrong. If you're completely clueless, it might be a good idea to employ the services of an impartial mechanic. While you might have to pay around £100 to borrow a professional for the afternoon, doing so could mean you avoid getting a bad deal. You simply can't rely on the seller to the upfront and honest in most situations. That is especially the case if you're looking to purchase a used model from the private market. Buying from individuals means you won't have a warranty. They are also not obliged to give you a refund for any reason after you hand over the cash.
Compare prices online
There are thousands of websites that list used cars for sale at the moment, and so you should check them to compare prices. If you don't know the average cost of the model you're looking to purchase, the seller could easily offer you a bad deal. Understanding pricing means you have a lot of room to negotiate. If you can provide evidence to the seller that proves their asking price is too high, they will have little choice but to lower it. The task of comparing cars online should take no longer than a couple of hours. However, you should always do it before arranging your viewing as there isn't much you can do if you find out you've overpaid after agreeing to the sale.
Find out about insurance costs
So long as you can get hold of the car's registration number, there are lots of websites you can use to get insurance quotes. While the final figure you pay might be higher than the quotes amount, doing that will give you a ballpark figure. It's all well and good getting a fantastic deal on a used automobile. However, it can sting a little when you get home and find it will cost over £1000 per year to keep it on the road. At the end of the day, you just need to select something with a reasonably sized engine. You do not want anything too big and powerful. Standard insurance prices tend to rocket with anything above a 1.8 litre engine.
Work on your negotiation skills
Your negotiation skills will play a big role in determining the deal you receive. By taking the right approach, you could encourage the seller to drop their prices and tip the scales of balance back in your favour. There are lots of fantastic articles available online that offer tips, so perhaps you should start reading through them. Just to help you with the basics; it's always a good idea to keep your mouth shut and allow the other party to start negotiations. You never want to seem too keen, but you do want to let them know you have cash to spend. That way; it's up to them to work hard and do their best to sell the car.
Presuming you manage to follow all the advice on this page, you shouldn't have too much trouble getting hold of a good second-hand model this side of Christmas. As we said at the start of this post, prices are a little lower over the holiday season because fewer people are buying. That means sellers are more likely to come down in price and throw in some extras to sweeten the deal. Unless you understand engines well, it's best to make your purchase from used dealerships rather than individuals. At least then you can take the car back if you discover any major issues.
Good luck with your search and we hope you have a fantastic Christmas with your new vehicle. You can thank us for the advice later.