Written by a Guest Blogger
Most dealerships provide you with two car keys when you buy a new vehicle, but when vehicles are traded in not all motorists remember to provide both of those keys. Therefore, when these vehicles are resold, they may not be provided with two keys. There is not law requiring dealerships to provide you with two keys prior to selling you a vehicle, so be sure to ask prior to purchasing the vehicle, this may be something you negotiate.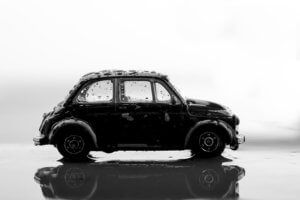 There are several reasons why you should own a spare key, starting with the known fact that people tend to lose things. In fact, according to a Wall Street Journal article from 2012, "the average person misplaces up to nine items a day, and one-third of respondents in a poll said they spend an average of 15 minutes each day searching for items—cellphones, keys and paperwork top the list, according to an online survey of 3,000 people published in 2012 by a British insurance company."
Another reason to have a spare key is the simple fact that our business environment leaves us in a forgetful state making it even more likely that we will accidently lock our keys in the car. Thankfully there are locksmith companies. Most provide 24 hour service, such as 24/7 Locksmith On Call, a Dayton OH Locksmith Company. Below are 7 important reasons why you should own a spare car key.
Cost
If you only have one car key, the cost of having to gain entry into to the vehicle by picking the lock and then replacing all of the door locks in the vehicle can be extremely expensive. It is much cheaper to have a key copied instead of incurring all of those extra expenses. Not to mention, the likelihood that you are going to lock your keys in your car at least once in your lifetime is pretty substantial. Having a spare will save you the cost of having to break into your own car or call a locksmith.
Peace of Mind
Having a spare key gives you the peace of mind you need when you do lock your keys in your car as mentioned above. You have the ability to get into your vehicle with a friend's help by retrieving the spare key. However, having an extra car key is also great on the days that you are in a hurry and have simply misplaced your keys in your house. You always have the option of using your spare and looking for the original at a later time.
Ease of Use for Two Drivers
Having a spare key is also great when two drivers drive the same vehicle. Sharing a key can be quite difficult if you are not able to be in the same place when one of you needs to use the vehicle. Having multiple keys helps avoid confusion and confrontation. As with number 2 above, if one of the drivers loses a key or simply misplaces it, the other driver still has a key to assist.
Driver Settings
One of the other aspects of using separate keys for multiple drivers is the ability to set driver settings. Most new vehicles have automatic seats, mirrors, and temperature settings. When a key is used to unlock the vehicle the settings for that driver are automatically changed to the configuration saved for that driver. So the seat will automatically move to the desired location as will the mirrors and temperature gauge.
Ease of Key Replacement
The fact that you have a spare key makes it much easier to get a replacement. Most car keys can be cloned just like a house key. Locksmiths have a machine that can do this in a matter of seconds. You must make sure that yours is one that can be cloned though.
Broken Keys
Over time due to use and corrosion keys can break. Having a spare at hand will make you extremely happy because this is a frustrating accident. Luckily items number 2 and 5 go hand in hand with this one.
Security
If you lose your car keys, you will have your spare key to take your vehicle to the dealership to replace the door locks. This avoids giving thieves time to locate your car and steal it. Take advantage of this by taking your vehicle to the dealership the second you realize you lost your keys.
Having a spare key can save you time, money, and stress. The reasons outlined above are some of the most important reasons to keep your spare key safe and secure.