There are plenty of articles out there that will give you ideas about buying a secondhand car. There are loads of guides and reviews, all of which tell you what to look out for as you go to inspect your new car. You should be looking out for wear and tear signs of general poor maintenance, as well as more the more general practical specifications of the vehicle. These are just a few of the elements covered by so many guides out there, but you get the general idea.
However, there seems to be a huge lack of guides on how you should be preparing your car for sale. Most people are selling their old car as they begin to look for a new one, and selling your old car can be just as stressful and difficult as finding a new one. It should also be a huge financial concern. The money that you make from the sale will mean that you have more choice as you search for a new vehicle using sites such as Motorline Direct. You'll want to get as much from the sale as possible in order to ensure that you have a decent budget for your next buy. You'll also want to have a quick and hassle-free sale. There's nothing worse than someone coming around and saying they're interested in your vehicle, before spending an hour trying to low-ball you on the price.
To make sure that you're going to get the most out of your sale here are a few of our tips and tricks.
Valet
No matter what state your car is in you should have it valeted before you put it up for sale. This serves a number of purposes. The general presentation of the car is obviously hugely important. It allows potential buyers to imagine themselves driving off in it without having to do any work themselves. It furthermore makes your car seem "younger", being reminiscent of the look, feel and smell it would have had as it came off the forecourt. It will also act as a general signifier to your buyer that you have been a careful and responsible owner. This will make them more likely to believe the car is well-maintained and therefore worth the money you're asking.
MOT and Tax
It depends on the general cost of MOT and road tax, but it can sometimes be worth paying for these in advance for when your car is put up for sale. If the tax is paid for the rest of the year, and the MOT is fully up to date then your potential customer will feel as though they are driving away a car that is ready to be used. Look at similar vehicles which have these pending/paid for, and look over their asking price. See if it's worth your while paying for it.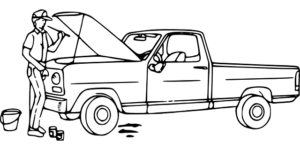 Source: Pixabay
General Maintenance
This is a simple one that you should already be taking care of. Fill the oil and the wiper fluid. Check the brakes and think through all of the basic stuff. This will all make your car more attractive to any potential buyer.