Nissan's first zero emissions vehicle is called the "Leaf". It is not a hybrid, it is 100% electric. With a claimed 100 mile range this will surely complete against the upcoming Chevy Volt. There are differences though. The Volt actually has an on-board internal combustion engine to recharge the batteries after its all-electric range of 40 miles. The Leaf (which seats 5) is 100% electric. After electric range, the Leaf is dead without a recharge. According to Nissan, you will be able to have multiple charging options – at home, at work, and along the way. The Leaf will be available in select states with a charging infrastructure (Arizona, California, North Carolina, Tennessee, Oregon, and Washington) first…in 2010.
For more information, visit Nissan's site dedicated to the Leaf.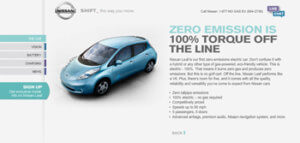 What do you think? Will the Leaf be a competitor in the electric car market?