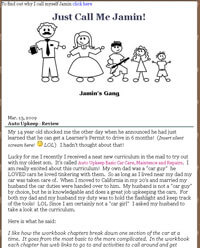 See what Jamin and her husband have to say about the Auto Upkeep Homeschool Curriculum Kit –
I like how the workbook chapters break down one section of the car at a time.  It goes from the most basic to the more complicated.  In the workbook each chapter has web links to go to and activities to call around and get quotes and information from different places.  I like that it gets the kids involved and getting experience as they use the curriculum.

The manual explains all the different tools you will need to use and what they are for.  It explains how to check fluids, the electrical system and what the different systems are.  There are a lots of web links so the information will remain up to date.  It also talks about being green and recycling things like oil and other fluids which is important.

The manual also breaks up the expenses of having a car.  It goes in to expenses such as maintenance, insurance, cost of the car, repairs, etc.  It also has information to figure out how many of your work hours will go to paying for your car each week. This will be good for our oldest to do next Fall.

The whole package looks very professional and complete!
Read the complete review HERE