On May 4th, 2009 Tata Motors indicated that they received "2.03 lakh fully paid bookings" (For those of us in the Western Hemisphere, 1 lakh = 100,000; so 2.03 lakh = 203,000) for the Tata Nano, the world's cheapest car, since "bookings" started on April 9th. Tata has collected Rs.2,500 crores (1 crore = 10,000,000; so 25,000,000,000 rupees is about 506 million US dollars. See the press release here.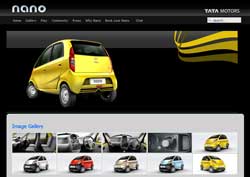 More staggering numbers…TataNano.com received close to 1 million hits a day from the vehicle launch date (March 23rd) to last booking date (April 25th).
Tata Motors, India's largest automaker, is smart. They are getting paid for cars before they produce them. Would that approach work in the United States? Maybe we will see a paradigm shift from choosing a car already on the lot to ordering one over the internet. This business model works for other products…one that comes to mind is Dell Computers.