Sometimes relationships just have to end. Navistar International Corporation, who has been providing diesel engines for Ford Motor Company for decades, will no longer provide engines for Ford's F-Series Super Duty truck. After several years in conflict (read Ford's press release back in January), the two will maintain their focus in the medium duty (F-650 and F-750) market…but for the F-Series Super Duty trucks, it's Ford's engine now!
According to the August 31st, 2009 press release, the Ford-engineered, Ford-manufactured, and Ford-tested engine has the following benefits:
* First use of a compacted graphite iron (CGI) engine block in a Super Duty-class vehicle in North America; stronger than cast iron, Ford has successfully used CGI in engine blocks in products around the world. The block structure was optimized for reduced weight and maximum strength to meet the demands of higher torque and horsepower
* Unique inboard exhaust and outboard intake architecture, an automotive-industry first for a modern production diesel engine, reduces overall exhaust system volume, which leads to better throttle response for the customer; additionally, reduced exhaust system surface area minimizes heat transfer to the engine compartment and improves NVH (noise, vibration, harshness)
* The new engine architecture enables easier service work for all major engine components, potentially reducing down time. On turbocharger service, for example, the body/cab no longer has to be removed from the frame to access the turbo; also, the high-pressure fuel pump, EGR (exhaust gas recirculation) components and thermostats are directly accessible from the front of the vehicle
* Honeywell's single-sequential turbocharger features an industry-first double-sided compressor wheel mounted on a single shaft. The unit is uniquely center-mounted on a pedestal low in the back of the valley for improved NVH. This turbocharger design allows the single unit to deliver the benefits of a twin-turbocharger system in a smaller, more efficient package, combining the benefits of a small turbocharger (faster response) and a large turbocharger (ability to compress and force more air into the engine for more power) in one unit
* The high-pressure Bosch fuel system injects fuel at more than 29,000 psi. The system delivers up to five injection events per cylinder per cycle using eight-hole piezo injectors to spray fuel into the piston bowl. The direct-injection system is calibrated and phased for optimum power, fuel efficiency and NVH
* Aluminum cylinder heads for reduced weight; the mid-deck construction with dual water jackets provides increased strength and optimal cooling; also, six head bolts, instead of four as found on other engines, help improve sealing and maintain cylinder integrity even with the higher firing pressures; overall the engine is about 160 pounds lighter
* Compatible up to B20 fuel, allowing greener fueling options of up to 20 percent biodiesel and 80 percent petroleum diesel
So how does this engine work and what technology does it involve? Check out this slide show for all the features.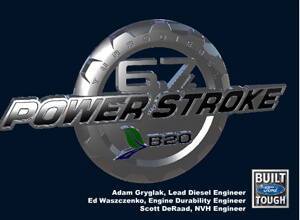 What do you think? Will the Ford engine be better than the Navistar? I owned a 1996 Ford Super Duty F-450 Tow Truck…and the Navistar engine in that truck was solid. I hope Ford engineers have developed a powerful, fuel efficient, and reliable engine for Super Duty customers…I guess time will tell.