As a car guy, there are many automotive apps that can make your life easier. As the author of Auto Upkeep I periodically give a presentation titled "Automotive Smartphone Apps and Mobile Sites" to automotive teachers and students. It always excites me when respectable parts suppliers develop apps to help the DIYer, technician, and automotive enthusiast.
SMP APP Overview
Recently I was approached to review the new SMP (Standard Motor Products – www.smpcorp.com) App. So I downloaded the App to my iPhone and gave it a spin. Since the average age of a vehicle is around 11 years, what better vehicle to try this out on than my 2000 GMC Sierra 2500 4×4.
What I like at first is the HOME screen. Go to the "Enter/Scan VIN". I even scanned my truck's VIN in low light and it picked it up perfectly. Once you have scanned or entered the VIN, click on "Search Parts". To make sure you don't lose this VIN, click on the disk icon in the upper right to save your search…then you are set. For my truck, the SMP App found 691 parts. The SMP App lists parts from all their brands – Standard, BWD, TechSmart, Intermotor, Hayden, ACI, Four Seasons, and others. If you want to just search one SMP brand, such as Hayden, you can do that too. Once you get the part, you can also scan the UPC to access part specific information.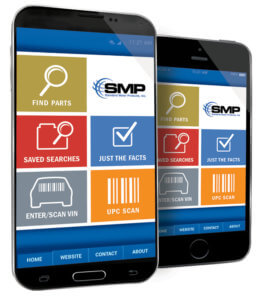 If you saved your search, click on "Saved Searches" anytime you launch the App and you will see your VIN. You can also save specific parts. So if you need an ABS Sensor from Standard, an A/C compressor from Four Seasons, or a thermal Fan Clutch from Hayden (plus hundreds of other parts)…the SMP App lists the part number, gives a product description, parts specifications, technical tips, videos, and more.
Another navigation from the Home screen is the "Just the Facts" tab. Here you can learn, among other things, the difference between MAF and MAP Sensors. It uses a form of Q & A to give you information about where these parts are located, common causes of failure, and how to determine it the part if malfunctioning.
If you have questions about the App, just click "Contact" at the bottom of it and you can submit your questions to a mobile support representative.
But before you do that, watch this 90 second video overview of the App…it's that simple.
SMP Share the APP Sweepstakes
To promote App usage and downloads, SMP has offered a chance to win prizes if you "Share the App". This is prominent from the current HOME screen. To view the official rules of the contest and for links to iTunes and Google Play for your Apple or Android phone or tablet go to www.SMPCorp.com/ShareTheApp. You could win a Samsung Galaxy Note Tablet or an Apple iPod Touch.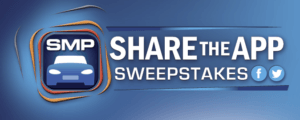 About the Blogger
Michael Gray is the co-author and publisher of Auto Upkeep – a textbook used by over 500 schools in North America to teach Intro to Auto, Basic Auto, and Car Care courses.
About the Post
This is a sponsored blog; while the views expressed here were genuinely mine, consideration was paid to me by Standard Motor Products, Inc. to review this product.