Written by a Guest Blogger
People often talk about "SR22 insurance". In reality, however, this is not insurance at all. Rather, it is a simple form that proves that the minimum liability insurance as set by the state is covering a certain driver. Not all drivers have to have an SR22 filing. In fact, in all states, it is only required for those drivers who have received serious traffic offense convictions. This includes DWIs, DUIs, driving without insurance, driving on a suspended license. Additionally, it can be required for people who caused an accident while driving without insurance.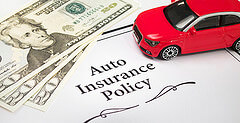 What to Do
If you have received a notification that you need to provide an SR22, it will be time to start looking for cheap SR22 insurance in California. The first thing to do is to actually contact your existing insurance company (or you past company if your insurance was cancelled) and find out whether they can file this on your existing policy. Usually, this will cost around $20. However, it is best to shop around, because you will generally find that holding an SR22 will increase your monthly or yearly premiums. Hence, do take the time to look for insurance with an SR22 attachment.
Once you have been approved by the DMV in your state and they have started to reinstate your license, you must properly file your SR22. You will also have to pay for your reinstatement. Once all of this has been completed, the suspension on your license will be lifted and you will once again hold a license. This will generally take about 10 days to complete, and you should receive an official notice of reinstatement. This is known as the "clearance letter" and should be sent to you through post. Until you receive your clearance letter, your license will continue to be suspended.
Once your license is reinstated, it can very easily be suspended again. If you don't pay your insurance premium, for instance, the DMV will receive an SR26 from your insurance company and a new suspension will be put into place immediately. Hence, this means that you will also have to restart the process, and pay for all the relevant fees as well.
SR22 Car Insurance
Because of the fact that you have been involved in a serious driving offence, your insurance will be a lot more expensive. Exactly how much more expensive depends on the offence itself. Driving without insurance is the least serious of all the possible convictions, but even this one will adversely affect how much you have to pay.
It is incredibly important that you look at various car insurance providers before you decide to take out a new policy. The best way to do this is by searching online, where you should find the various insurance companies that offer high risk car insurance. There are also a number of brokers that you could go to. While this is a good idea, you do have to understand that they will not check all the different insurance carriers and that you will also pay them a broker fee.