Written by a Guest Blogger
We all love our cars in our own ways, with some giving them what many (partners especially), might perceive to be a little bit too much TLC. On a sunny weekend morning, many of us take to the driveway to give our cars a clean and polish inside and out, performing numerous maintenance tasks along the way.
This love we show for our cars – and bikes for that matter – emphasizes how important it is to go somewhere you can trust to get any parts you need to do any repairs yourself, or to get them done professionally. There are a great number of jobs you can do yourself, getting the parts from Brownsville auto parts and taking them back and getting your hands dirty.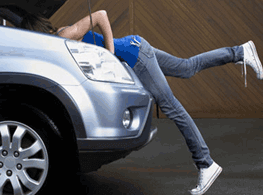 There's often nothing better than fixing something yourself, as shown by the irrational love of DIY shown by many people. One such example is changing the air filters in your car to help to improve performance. To do this, just pop open the bonnet and locate the filter. Make sure you have a look at how it sits in the casing (so you know how to replace it!) Then simply remove the old one and replace it with the new one, making sure you do up and fastenings so the filter remains in place – you don't want dirt getting through into the major working parts.
Windscreen wipers can last either a long time, or a short time depending on how often they're used and the brand you have fitted. Changing your wipers takes no time at all, it's just a fiddly process trying to locate the fittings so that you can unclip the old one and replace it with the new. The key here is not to let your wipers slam back down on the glass otherwise you risk cracking it, (which will be far more expensive than your new blades!)
Headlight bulbs are prone to wearing out just when you don't want them to. For that reason, with the nights getting progressively longer towards the end of this summer, it's probably a good idea to change them over for newer ones to get you through the winter. It's dangerous to drive with headlights that aren't working with other road users potentially assuming you're a motorcycle if you only have one working headlight, which puts you at risk.
To change your bulb, locate where the lights are housed and start by removing the wire that holds the existing bulb in place. Remove the bulb from its current location and, using a clean rag to keep dirt from the bulb, replace it with the new one, clipping it into place. Plug the wire back in and be sure to test your new headlight to make sure you've replaced it sufficiently.