The world may be a somewhat more complicated case than what it was a few years ago. But, it is vital that you are in the right place to know how your car works. Yes, cars are now fitted with more mod cons than the average household. But, engineering-wise, they are fairly similar as to what they were a few decades ago.
When it comes to being a car owner, there are some basic tips that you need to know. You don't have to be an auto mechanic to know how your car works.
Check Your Motor: Under the Bonnet
Open the bonnet of the car. Does it look scary? Probably. But, it isn't. When it comes to maintaining your car, you need to be aware of some basic and simple things.
You need to make sure that you are regularly checking the oil within your car. Check the level at which is sits. If it's too low, add some oil. Check the cleanliness of the oil too. If there is a lot of debris and dirt within the oil, it's time to change it. Checking the fluids is one of the easiest things that you can do via the DIY route. So, check the coolant levels and transmission fluid. Top them up if necessary.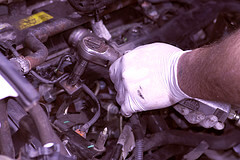 Image Credit Emyr Jones
While you're under the hood, as it were, you need to make sure that your belts are in an excellent state of repair. Check for cracks in the rubber and visible signs of wear and tear. Cracks are the most common sign of damage within a belt, and they are visible to the human eye with ease. However modern belts don't show visible signs. Use a "belt wear gauge" to evaluate the belts condition. You can even download an App to assist you – the PIC Gauge by Gates.
Also check for loose electrical wires. This can be problematic for a car owner. So, make sure that you are investigating these problems. Simply reconnect them and away you go.
Imperial Car Supermarket have said that a car's battery is often a cause for concern. When was the last time you checked your battery? Do you know when it was last replaced? If not, get outside and check your battery. This is imperative. Batteries often suffer from intense wear and tear. A battery lasts about 5 years. Have it load tested. For older cars, this is vital.
Visual Checks on the Exterior
Many of us examine the interior of our car. But, you also need to consider the outside to make sure that it is in a good state of repair. Check for body and bumper damage. Check for rust and signs of damage. You need to take a look at the exhaust and make sure that it is performing as it should be. Endeavor to check your tyres regularly.
While you may not be able to fix the problem, you will be aware of it while it is a minor issue. Get it fixed and make your car last for the long term.
Minor checks don't require a qualification in mechanics. Simple checks can be done at home and easily rectified. Your car will certainly last the distance by doing this.