Written by a Guest Blogger
Many of us have rallied, raced and skidded all over the track, but now there's a new kid on the block that's caught the attention of petrolheads all over the world as it is becoming a motorsport in its own right. We're talking about the art of drifting.
Originating in Japan, even Hollywood has cottoned on to the high-thrills and spills of drift racing with the successful film franchise 'Fast and Furious'. And now it's really starting to take off in the UK with its very own championship events drawing more and more competitors and spectators alike.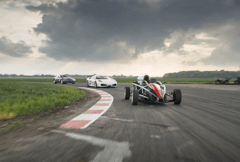 So what is drifting and how do you get a car to drift? Well, if you've ever driven in snow or ice and felt the back end of the car swing out, then you'll be familiar with the sensation, except that drifting is about losing traction without losing control and most definitely not stalling like most of us do in that sort of driving situation.
Deliberately getting a car to slide is a real art form and takes a lot of practice. Before you've even switched on the ignition you'll need to look at your driving position. For drifting you need to be sitting closer to the steering wheel than you're perhaps used to, but it gives you much better control of the car, especially when it's full lock on, full lock off type stuff.
Now you're ready in the car (which will be rear wheel drive – if it's a standard front wheel or all-wheel drive it ain't drifting!), you've got your helmet on and you're sitting on the tarmac of a specialist circuit well away from the public roads. It's time to go drifting. There are three basic drifts to test your motoring mettle out there:
* The handbrake drift
* The brake drift
* Dynamic drifting
The handbrake drift is the one that most novices begin with and, as you might well guess from the name, you initiate the slide using the car's handbrake. As you enter a corner at a controlled speed (this is one method that can be down at a relatively slower pace), it's clutch down, handbrake up. As the rear starts to slide, release the handbrake and hit the gas to drive you out of the corner – sideways! Of course, you're bound to stall a few times as it's pretty alien to most of us to deliberately get a car sliding, but once you've cracked it, it's a brilliant feeling as you gracefully glide around a bend.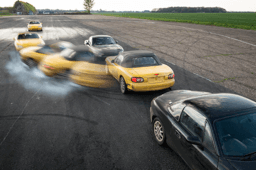 Having got that basic move sussed, you might move on to the brake drift. This is where your footwork will get fancier than a Cha Cha Cha and it's all done at a higher entry speed to really get the adrenaline flowing. Coming in to the corner in a straight line you start to brake, then lift off slightly whilst steering into the corner. The key to all this is the amount of braking you apply and when. It'll take a lot of practice, but once again, get it just right and you will be flying round those bends.
For the most stylish drift there is, you need to master dynamic drifting. This is the expert level that even Top Gear's The Stig would have had to practice to get just right. It's all about a proper, full on, high speed approach in third gear, then lift of the gas momentarily and as the car starts to drift, it's a question of controlling your trajectory with the steering. Not enough or too much and you'll spin out. There's no braking or handbrake use involved here, it's all about the balance of the car and handling skills. Nail this one on your first attempt and you'll definitely get a high five from your instructor!
Of course, technically you can drift anywhere, but we wouldn't recommend taking your family saloon to a car park anytime soon, even if it does rekindle your lost youth. IntotheBlue.co.uk offers drifting experiences at professional circuit venues around the country, where the cars have been prepped for drifting use and there are expert instructors on hand to guide you from the passenger seat to make sure you get the most out of your session and don't just spend the whole time spinning, stalling and wearing out the clutch or the tyres.
And if you want to see the best of British drivers drifting, take a look at the DriftCup and the British Drift Championship for all the info on competitive drifting, with rounds at venues around the UK.
For more information, check out our blog where you can find many articles like this one!