Written by a Guest Blogger – Allan Ory – Allan loves writing about cars even more than he loves driving them. He found the best of both worlds when he pursued a journalism degree.
The 2012 Nissan LEAF averages an 80 mile driving range, but according to SankeiBiz, a Japanese business website, that number could increase by 25 percent in next year's model. Though Nissan has yet to confirm or deny reports, the company's 2013 electric car could feature a cheaper base model with a smaller battery pack.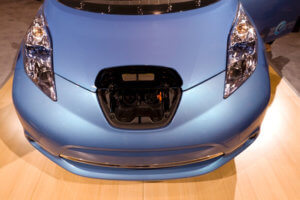 When the LEAF was first introduced, it faced no real competition among pure EVs, according to Plug In Cars, but with the ever-increasing technology and sales of other electric vehicles, Nissan needed to act fast to maintain their position as EV leader. With a possible boost in range set to come out next year, Nissan dealers and the industry at large are wondering if LEAF sales, which have struggled in 2012, will see an increase.
The Range Boost
According to the Japanese report, the LEAF could increase its maximum driving range from 200 kilometers to 250. Conversion rates put this estimate at 124 miles—a range that surpasses the LEAF's current 24 kilowatt-hour pack, according to Plug In Cars. Because car testing methods in Japan are different from those in the U.S., this can be misleading.
In EPA-rated standards, the LEAF has a range of 73 miles, with drivers commonly averaging 80 miles of range in everyday driving. More realistically, the presumed 2013 model could offer an extra 20-30 miles due to a more efficient motor and upgraded lithium-ion batteries. This would bring the total range up to 100-plus miles, meeting Nissan's original target for the LEAF.
Gas-powered cars are created in a variety of trim levels. If smaller battery options can provide reasonable range, Stephen Edelstein from Digital Trends says choosing between battery packs could be the EV equivalent of choosing between a four-cylinder or a V6 in conventional cars. But could this possible boost in range really boost LEAF sales?
LEAF Sales
According to Mark Perry, Nissan's director of product planning, in an interview with The Detroit News, expectations are for LEAF volume to hit 2,000 units per month in the U.S. by late summer. With July's 395 sales and June's 535, that's quite the jump in numbers. Last month, 685 LEAF units were sold in the U.S., a 50 percent decline compared to August 2011, according to Time Business. Perhaps the 2012 Motor Trend Auto Show could improve LEAF sales with Phoenix Nissan in Arizona's capital and all across the country from Anaheim to Long Island.
With all the chatter about increased range in the 2013 model, and the decrease in numbers this year, it will only make it more difficult for Nissan dealers to sell the remaining 2012 models. But Nissan isn't discouraged, nor is the company backing down from its original goal of selling 20,000 LEAFs in 2012. The prediction was somewhat modified recently, when Bill Krueger, the vice chairman of Nissan Americas, told Bloomberg that the goal runs through the company's fiscal year, which ends in March 2013, not this upcoming December.
In that same interview, Krueger announced a new plant in Smyrna, Tenn. will be ready to produce the cars in December, helping relieve the plant in Japan and boost supply before the fiscal year is over. "We've had to fulfill demand from one plant globally," Krueger told Bloomberg. "Once we localize it in December, the second half of the fiscal year is when we'll see most of the supply, demand be available."