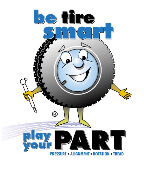 Did you know that only 15% of drivers properly check their tires? (See Rubber Manufacturers Association Fact Sheet)
Take this week to learn how to correctly check your tires. Then get into the habit of checking your tires at least once a month. To learn how to correctly check your tires, check out this handy brochure from the Rubber Manufacturers Association titled "Be Tire Smart, Play Your PART – Pressure, Alignment, Rotation, Tread".
A quick reference guide on Tire Maintenance and Safety is located HERE.
The Rubber Manufacturers Association also put together a free tire safety curriculum. The curriculum includes a student guide
and a teacher guide. The curriculum includes a pre-test, tire pressure, wheel alignment, tire balance, tire rotation, tire tread depth, and tire maintenance. If you would like to put up a tire safety poster, get it HERE.
If you need assistance checking your tires, visit a "Be Tire Smart" partner. Partners include American Car Care Centers (ACCC), Big 10 Tires, Big O Tires, Costco, Discount Tire Co., Expert Tire, Firestone Complete Auto Care, GCR Tire Centers, Goodyear Auto Centers, Just Tires, Merchant's Tire, National Tire and Battery (NTB), Pep Boys, Sears Automotive Centers, STS Tire and Auto Centers, Sullivan Tire and Auto Service, Tire Factory, Tire Kingdom, Tire One, Tires Plus, Tire Warehouse, Wal-Mart Tire and Lube Express, among others.
Will you check your tires today?