Written by a Guest Blogger
The battle has been raging on for decades over which nation is better at making cars, and the result doesn't show any signs of becoming clear any time soon. Cars made in America and Japan are among the most popular on the planet with models such as the Chevrolet, Dodge and Ford going head-to-head with the Honda, Mazda and Toyota.
The American car market has been huge for decades, you only have to see the sheer number of models available at the Rio Grande Texas Ford dealership to see just how many cars have been produced by Ford alone, but that doesn't necessarily mean that they're ahead in the popularity contest.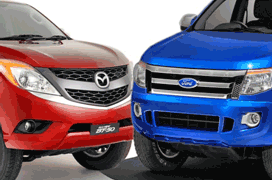 There are some major differences between the two nations stereotypically in terms of the cars they produce with the Americans famous for their muscle cars, such as the Dodge; while the Japanese have found fame with their reliable, practical and comfortable models as seen through manufacturers such as Honda.
There are, however, five real areas where the contest starts to heat up: safety, value, reliability, customer satisfaction and resale value (also known as depreciation).
Safety
One of the major factors in choosing a new car is its safety rating. Modern cars are put through stringent tests to make sure that they're up to all of the challenges and risks they're faced with. While the Japanese have spent a lot of time working on the safety element, the Americans are already years ahead in their development of what has already been in place. 1-0 America

Value
Another key factor in the decision in what car to buy is, obviously, the price. Finances are tight around the world at the moment with people choosing against buying new cars and opting for used models as a result. This means that the new car market is faced with a serious issue in trying to win customers back and that means that they have to be cars that are worth the price tag. The Corvette, while a fine car, is the only real American car that you could justify paying a new price tag for right now, while the majority of the Japanese market is much more reasonably priced. 1-1

Reliability
This refers to the number of reported problems the car owners have experienced. In numerous studies over the past few years, American cars have proven to be much more reliable than their Japanese rivals with models such as the Buick Lacrosse outshining the likes of the Toyota Prius, despite the Prius potentially being the "car of the future" by being a hybrid. 2-1 America

Customer Satisfaction
While reliability is one of the major contributing factors to customer satisfaction, factors such as value, comfort and performance are equally important and in this respect the Japanese have it over the Americans. The cars made in America are still designed to be loud and fast as a precedent, while their emphasis appears to be turning towards hybrid and electric models. In comparison, the Japanese are placing much more emphasis on all-round performance in terms of fuel economy, driving experience and quality. 2-2

Depreciation
This one is a runaway victory for the Japanese I'm afraid. American models turn into 'classics' but they lose their value very quickly because the market has a fondness for the older models meaning that there is next to no resale value on the majority of modern cars, with the exception of the latest Mustangs it must be said. Final Score: 3-2 Japan