This week, Daimler and the City of Austin (Texas) entered into a partnership to assist with urban mobility. The car2go program (a subsidiary of Daimler) uses 200 smart fortwo vehicles in a car sharing initiative. According to Mayor Lee Leffingwell, "This pilot-program partnership between car2go and the City of Austin represents a significant step toward helping us alleviate congestion, reduce emissions and increase the use of public transportation." What is neat about this program is that Daimler negotiated parking fees within Austin in exchange for free driving minutes for City of Austin employees driving on City business. This means that all users don't have to pay for parking. (Read Daimler's or Austin's press releases.)
Since car2go vehicles are not always in the same spots, you can use an interactive location system to find the nearest car.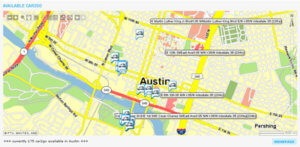 Car sharing is a great solution for dense urban population mobility issues. The City of Austin's barter system with exchanging parking spaces for free driving minutes for City employees is a great way to keep the operation costs down while alleviating the most frustrating aspect of using a car in a city – parking it.