Written by a Guest Blogger
As a driver, we often pick up bad habits, drive the way we want to and become less concerned about the rules, regulations and the general consideration that should be given to other road users. Instead we are possibly more focused on the music we are listening to or the areas we are driving through than what's happening on the road around us.
It is quite amazing how quickly we disregard everything that we have learned and make our own rules… It doesn't matter if you're a relatively new driver out in your first car or an experienced driver out in your fifth car that you recently bought from https://www.twwhiteandsons.co.uk to cope with your growing family, there are common driving mistakes that we all make at some point and not only are they the exact opposite of what we have been told to do throughout our driving lessons, but they are often quite illegal in the UK!
For instance, something many people aren't aware of is that it is deemed to be an offence if you let your car run out of petrol. Traffic police are able to charge drivers with Driving without Due Care and Attention because of risks including causing multicar pile-ups when you end up stranded in a lane on the road, and, let's be honest, it is something that you should be aware of and able to avoid.
Tailgating
Driving too close to the car in front is not only a form of intimidation but it is now an illegal driving move and will result in drivers being punished with a £100 fine.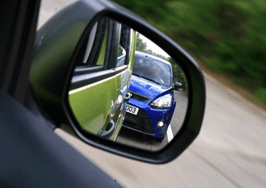 Poor Navigation Skills
This is something that most people suffer with, the stress of having to navigate around unknown places is often overwhelming but it can lead to some very bad situations. Common sense is the most obvious tool in combating this and it is wise to remember that the sat nav is not always right.
Running a Red Light
This has incredibly serious implications, it could cause head on collisions, accidents and is now punishable with a £100 fine and 3 penalty points. Red lights are there for a reason and although there is great argument about how quickly they change colour they must be adhere too.
Accidents
The most common part of driving and something you are lucky if you manage to escape, accidents happen whether they are your fault or someone else's. Small bumps, little knocks, anything can happen but it is best to avoid them at all costs simply by following the rules of the road and being vigilant.
Mobile Phones
A very serious problem that is the biggest cause of road related accidents and deaths and there is a far bigger crackdown on drivers that use phones when driving. Mobiles are distracting and will eventually result in a near miss or an accident. A £100 fine and three penalty points are the punishment unless the accident is more serious and a prison sentence can be incurred.
Improper Use of Lights
Car headlights serve two purposes, to let other drivers know you are there during poor visibility and to allow you to see the road ahead whilst driving. Not using them properly is a serious risk to you and other road users.
Not Signalling
For the same reason as the use of headlights is important, drivers need to let other road users know where they are going to limit the chances of collisions and as simple courtesy.
Constant Braking
Not only is braking constantly annoying, but it uses far greater amounts of petrol and will encourage another driver to go into the back of you as they are unsure what it is you are doing and trying to achieve.
Not Gripping the Steering Wheel
You need to have a good grip on the steering wheel to stop the car from veering off the road, losing control of the vehicle and being able to guide the car at all times.