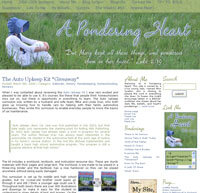 I am pleased to announce that Miss Jocelyn, the top commenter at HomeschoolBlogger.com and publisher of www.aponderingheart.com, recently reviewed our Auto Upkeep Homeschool Curriculum Kit. You can read the review and comments at https://aponderingheart.com/blog/?p=1900.  I also pasted the review below:
Auto Upkeep Homeschool Curriculum Kit review by Jocelyn Dixon (17 year old Homeschooler – www.aponderingheart.com)
When I was contacted about reviewing the Auto Upkeep kit I was very excited and pleased to be able to use it. It's courses like these that people think homeschoolers miss out on, but there is opportunity in everything to learn. The Auto Upkeep curriculum was written by a husband and wife team, Mike and Linda Gray, who both grew up knowing how to handle cars by helping with their family automotive businesses. They wrote this curriculum to enable everyday people to know the basics of car maintenance.

Excerpt from AutoUpkeep.com
"Auto Upkeep: Basic Car Care was first published in July 2003, but that date really only represents the starting point for Rolling Hills Publishing. By 2003 Auto Upkeep had already been a work in progress for several years. The author Michael Gray has always been interested in the automobile. He started in the automotive field at the early age of twelve in his family's service station. In the mid 90s Michael implemented and taught a basic high school automotive program. This program is still a popular elective at that high school."

The kit includes a workbook, textbook, and instruction resource disc. These are sturdy materials with thick pages and large text. The workbook is pre-made to be placed in a three-ring binder and the textbook has a nice hardcover so they can be placed anywhere without being easily damaged.

This curriculum is set up for middle and high school grades, but my 11year-old brother could easily go through it and still I think a younger age could use it. Throughout both books there are over 400 illustrations and drawings to make it easy for the student to understand in given details of text and images. On the disc you will find documents and PDFs of syllabuses, activities, questions, examines, and more to use on your computer or print off.

The student uses this curriculum by reading over a chapter in the textbook and then going to the workbook to complete activities, questions, and quizzes based on each chapter. Both are easy to follow and read. I really liked how there are different signs for different topics of information, in balloons and sidebars, in both books. These not only inform the student, but keep them interested while completing the chapter. They make this a well-rounded curriculum with including information that may not be directly on auto upkeep, but certainly is important. In the beginning of the textbook a history is given of the automotive's progression and impact on the course of the world since the 1770's. You don't often get to read about this kind of information, unless the guy at the mechanics is quite friendly. Ha!

They make this an interactive course. It's not just reading or writing. It's getting involved and getting to put into practice what you've learned. They have you going out to your own car to find parts that are important to locate and identify. Giving you info on what to look for in a car, buying, expenses, and safety.

Excerpt from AutoUpkeep.com…
"We want to provide you with the best resources possible. We value your input. We are constantly working to develop and improve Auto Upkeep and additional teaching resources to make learning about car care easy and fun. If you have suggestions on how to improve our products, please email us."

This is a curriculum that can be used for a one on one or in a group. You can buy them in sets for co-ops or buy just a replacement workbook to use with the textbook and disc again and again. On their website you can find frequently asked questions, ask a question, visit their blog or watch videos on their YouTube channel. They thought of everything!

Whether you have someone to show how to keep basic auto maintenance or not this curriculum will benefit you. As a young lady this type of job will be something I'll let the men do, but it is useful knowledge I need if ever I should be put into a position where I have to do it myself. Being prepared for anything, even changing a tire yourself, is one of the best traits of a homekeeper can have.