Zero Pollution Motors and Motor Development International are working to develop a compressed air powered car. At low speeds the vehicle runs only on compressed air. At speeds over 35 mph the vehicle uses fuel to heat air. The fuel can be gasoline, ethanol, propane, or a bio-fuel. To see how the Compressed Air Engine works, click on the picture.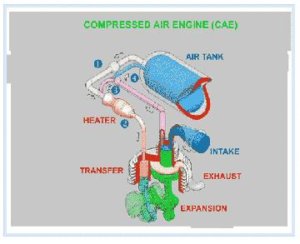 The current design vehicle has the following specifications:
75 horsepower
Maximum Speed = 96 mph
Fuel Economy = 106 mpg
With a Range of 848 miles (8 gallon tank)
For more specifications, click HERE.
What do you think? Will air powered vehicles compete with electric vehicles?