For thousands of Americans, the British Isles prove to be a popular vacation destination. The "motherland" as some people call it is small. But in days gone past, the British had somehow managed to control large swathes of the world!
The United Kingdom is rich with history. Brits also have a lot of weird and wonderful customs; at least to us Americans anyway! Although most of Britain has a good public transport network, traveling by car is the preferred method to get around.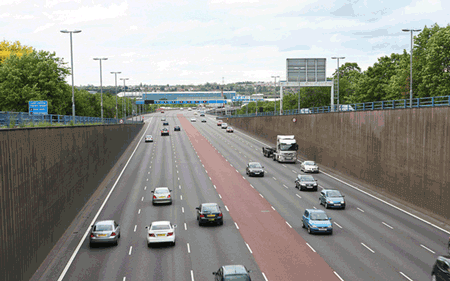 You might think to yourself that driving on the streets of Britain is no sweat. There's just one thing that you might have forgotten; people in the UK drive on the left! Most of the world drives on the right, just like here in the United States.
But certain parts of the world have stuck with the same side of driving their former colonial masters introduced. Such countries include Australia and India. To be honest, it's pretty straightforward to learn how to steer a right-hand drive car.
There are plenty of other things that you, as an American, need to know before you get behind the wheel of a car in Blighty! Today's handy guide will tell you everything you need to know about driving in the United Kingdom.
Do you need a car to get around?
If you plan on sticking around central London, the answer will be no. Central London has an excellent public transport network. It includes the world-famous London Underground "tube train" network.
You can use an Oyster card to pay for your fares so that you don't have to fumble around for cash and change. In fact, London's bus network no longer accepts cash as a form of payment.
If you are feeling adventurous, you might want to do a road trip of Britain. While it's possible to use buses and trains throughout most of the UK, driving to many destinations is more convenient.
Before you travel to the UK, plan a rough itinerary of where you want to go. That way, you can research whether you need to hire a car or not.
Renting a car
Renting or "hiring" a car is essential if you need a car in the UK. Many of the familiar rental car companies like Enterprise and Avis exist in the UK just like they do at home. If you've rented a car in the United States before, the process is similar in the UK.
You choose what class of car you want to rent, how long for, and you pay the rental costs when you bring the car back. To save money on your rental car costs, I recommend prepaying for your rental online.
In the UK, all cars that drive on public roads and highways must have valid insurance cover. Comprehensive insurance covers cars in the event of an accident. It will also cover accidental damage, vandalism and theft.
As you might already know, car rental companies will take a deposit on your credit card. That deposit can be anything from £200 ($330) to £700 ($1,140). It all depends on what class of car you hire. Small to medium cars will be at the lower end of the scale. Anything "premium" like a BMW or Mercedes-Benz will be at the higher end.
At the rental counter, they will always ask you if you'd like to buy an extra "waiver" to reduce your car's insurance excess. That insurance excess is often around £700 ($1,140). Refuse to take it, and buy insurance excess cover from a third-party supplier instead. If you buy it from the rental company, you could double the cost of your rental!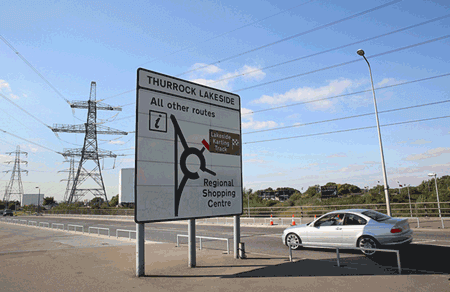 Always give way to your right
In Britain, there are lots of these curious road structures called roundabouts. At home, we are all used to intersections with traffic lights at each end. But someone in the 1960s thought it would be a great idea to use them everywhere in the United Kingdom!
Of course, there are plenty of roads with traffic lights. So when you approach a roundabout, what should you do? The golden rule here is to give way to traffic to your right. You should also determine which lane to be in before you approach it.
For example, if you are driving ahead you should stick to one of the left-hand lanes on your approach. But if you need to turn right, stay on the right-hand lane and merge into the center or left lanes as you approach your exit.
Right turn on red is illegal
Americans take for granted the benefit of right turn on red. In the UK, it would get called a "left turn on red" – if it were legal!
In the UK, it is illegal to turn left at a set of traffic lights if they are on red. The only exception is if there is a "filter" light for the left, and that light turns green. If you forget about this rule, you are likely to get involved in an accident!
Know your roads
Britain has a comprehensive road network, and it can often be confusing to drivers from the United States. Scott from harratts.co.uk was kind enough to write in and offer this information for our readers:
A lot of standard roads are often prefixed with "A" or "B." For instance, the A40, B443 and so forth. Smaller roads and streets only have names;
Major trunk roads connecting some towns and cities together are motorways. They get prefixed with "M." For instance, the M40 and the M5 are two motorways;
Dual carriageways are roads with two lanes in each direction. Motorways usually have three lanes in each direction, but some can have two while others have four or even five lanes.
Parking
At some point, you will need to stop driving and park your car. Avoid parking your car on a road with yellow or red lines. You are not allowed to park on such roads, and your car could get clamped or towed away.
I hope you enjoy your trip to the UK. Good luck with your driving adventures there!