General Motors (GM) finally released wind tunnel test results for its highly anticipated Chevy Volt. A wind tunnel is used to test the coefficient of drag. Learn how aerodynamics works from HowStuffWorks.com.
The GM wind tunnel yielded the following results:
Honda Insight = 0.32
Toyota Prius = 0.30
Chevy Volt = 0.28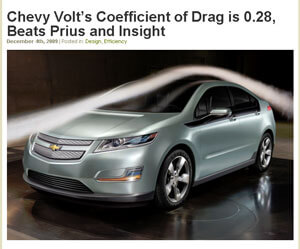 The lower the drag coefficient the better. The lower the number the more aerodynamic the vehicle is cutting through the air which helps in increasing fuel economy.
GM engineers concede that Toyota achieved 0.25 for the Prius on their wind tunnel, but as they point out "its really all relative to what tunnel it was tested on". See GM's statement.
Just for fun, check out this Wikipedia article listing the coefficient of drag for many vehicles. A 2003 Hummer H2 had a rating of 0.57, whereas a 1996 GM EV1 0.195.