The 2011 Ford Mustang EPA (Environmental Protection Agency) Fuel Economy MPG (Miles Per Gallon) are in:
Ford Mustang 3.7 liter V-6 … 300+ HP (Horsepower) and 31 mpg on the highway with an automatic transmission
Ford Mustang GT 5.0 liter V-8 … 412 HP and 26 mpg on the highway with a 6 speed manual transmission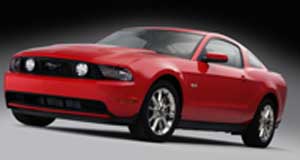 I am not only impressed with the GT, but look at the "regular" mustang…300 HP out of their V-6! Read Ford's Press Release. Are we in a new muscle car era? Let's compare the 2011 Mustang specs to the classic 1969 Mustang.
1969 Mustang 250 c.i. (4.1 liter) I-6 1V Carburetor … 155 HP
1969 Mustang 302 c.i. (5.0 liter) V-8 2V Carburetor … 220 HP
1969 Mustand 428 c.i. (7.0 liter) Cobra Jet 4V Carburetor … 335 HP
See all specifications at TheAutoChannel.com
With about half the engine size (3.7 liter) the 2011 Mustang V-6 is encroaching on the HP of the massive 1969 Ford Mustang 428 Cobra Jet. Technology is amazing!