Written by a Guest Blogger
The iconic Corvette Stingray has had a facelift, a bit of rest and recuperation and come back better than ever for 2014 in the latest attempt by Chevrolet to make it onto the list of big guns in the sports car category with the likes of Porsche, Ferrari and co.
The new model, known inside the walls of the Chevy factory as the C7, has been made as a direct competitor to the Porsche 911, a car that has been a global sensation whereas the Corvette Stingray, whilst being immensely popular in the States and available to buy from Chevrolet Edinburg TX, hasn't had the same effect. Throughout the States it's a phenomenon, a truly outstanding piece of American engineering that has remained popular with the die-hard Chevy fans; but now it's time to break the global market.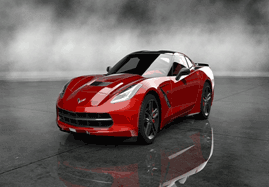 The good news for Chevrolet in that respect is that the latest Corvette is right up there in terms of their best releases. For decades the American sports car has sat in the shadow of the German, Italian and Japanese offerings, but in 2014 we might finally see an American model near the top – if not at the top – of sports car sales across the globe.
The 6.2-litre V8 455bhp engine is the most efficient ever put under the bonnet of a Corvette, helping to create value for money as well as smiles per mile. The performance hasn't been compromised, something you often experience with more efficient engines, with a smooth and comfortable ride combined with the beast under the bonnet making the machine roar down the highways.
It's also been made much lighter than other models, thanks to an aluminium chassis that helps the driver to throw it into the corners with much more confidence that you'll come out on the other side rather than fighting it to prevent it from going straight on!
Finally, you have the styling, the most important thing in the eyes of many motoring fans and particularly those who remain loyal to the Chevy brand. The Corvette is an American icon, just like James Dean and Marilyn Monroe and as such it needs to maintain its identity. It's been given a bit of a makeover to bring it into the present day, but don't worry – it's still a Stingray.