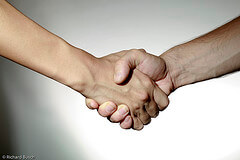 Written by a Guest Blogger
Buying a used car is one of the best ways to find a bargain motor these days. It certainly isn't the worrying practice it once was. Nowadays modern cars are built to last and you'll often get ten problem-free years from a new car. That means if you buy a three year old vehicle, you've still got a good seven years of service. Used cars are no longer the risky old bangers of old, that's for sure.
Perhaps the best thing about buying second hand is the ability to avoid the harsh effects of depreciation. Cars lose up to 40% of their value in the first 2-3 years of their life. Buy after three years and you'll sidestep this money draining process. With online resources, auctions, private sellers and dealerships, you're spoilt for choice. You'll find bargain used cars if you look hard enough.
Despite all this, you should still approach the process with caution. Not every car out there is a well maintained, second-hand beauty. It's your job to seek these out and make sure you don't buy a banger! One sure fire way is to know what you're looking for. Do all the relevant checks to the engine, bodywork and tyres. Once you've done that, learn as much about the history of the car as possible. To do that, make sure you ask these essential 10 questions.
Can I see the service history?
Every used car should come complete with an up-to-date service history. This should detail every service, maintenance repair and health check the car has had. It should include everything from its MOT history to every oil check to the mileage update. Use the service history to ensure that the car has been well looked after throughout its life. Look for regular oil changes. Look to see that the mileage listed seems consistent with what's on the mile gauge.
Are there any problems or tricky parts on the car?
Sellers and dealers are legally required to answer this question truthfully. Over time, many cars develop their own little quirks and niggles. It might be a sticky gear change or a clutch quirk. Many of these things won't be a major problem. However, sometimes it could be an indication of a bigger problem. Take a note of anything that sounds suspicious.
Is the mileage genuine?
If someone has gone to the effort of tampering with mileage, they're certainly prepared to lie to you. However, you must still ask the question and assess the authority of their answer. You may discover further down the line that the mileage has been altered. If you know that you have asked the question, then you have a case against the dealer. Unfortunately, if you don't ask then there's little you can do. Of course, you should always check the gauge for evidence of tampering. Also look through the service history and make sure it all adds up.
Has the car been in any accidents?
It's important to know if any aspect of the car has suffered serious damage. Although it may run fine with replacement parts, there may be hidden problems. Get the full details of any crash or collision. Find out what parts were affected and what was replaced. Check against the service history and be sure that a mechanic gave it a full bill of health afterwards.
What does the warranty cover?
One benefit of buying from a used car dealer is that they'll usually provide a warranty. This is a guarantee of service in case there are any maintenance problems. Dealers like Thames Motor Group pride themselves on a good warranty and it gives you peace of mind. However, always be sure to ask what is covered and how long it lasts. They usually cover maintenance for the major engine parts. But often wear and tear is excluded, as are sat nav and air conditioning systems. Be sure to check.
What's included in the price?
This is another important question when buying from a used car dealership. Sometimes, you can agree on the sale price, only to find additional costs in the contract later. When negotiating with the dealer, ask for a full breakdown of what is covered in the cost. Then ask if there are any additional costs such as delivery costs and titling fees. These can sometimes crop up later in the deal.
Why are you selling the car?
If you're dealing with a private seller, this is one essential question to ask them. More often than not, you'll get a completely honest answer. They may be looking for an upgrade or trying to free up some money. With this question you are looking for any evidence of them trying to unload a problematic vehicle.
How have you used the car?
Again, this is another one for the private sellers. Try to get a sense of their driving habits. Some cars will have spent their life bombing back and forth up motorways. This clocks up tons of miles and puts added pressure on the engine. Those that just nip around town are likely to retain a more reliable engine.
Can you prove ownership and identity?
This is often an awkward question to ask, but it is essential. When buying from a dealer, you can generally trust the history and ownership of the car. Unfortunately, when buying privately, this isn't always the case. A lot of stolen vehicles turn up on the private sellers' market. You certainly don't want to end up in possession of a stolen car! Ask to see ownership documents and proof of address and identity. Legitimate sellers will understand and be happy to show you.
Can I test drive the car?
Finally, never purchase without getting behind the wheel and testing the car. Listen for any signs of engine trouble or other problems. Test the brakes and acceleration. In fact, drive it like you would normally. Take it on the motorway and take it around town.
If you get satisfactory answers for each of these questions, then you're ready to take your car home!